Clinical services alert
Updated Oct. 21, 2022
Due to high demand and limited staff, the WCVM Veterinary Medical Centre (VMC) is limiting its after-hours service for small animal emergencies. Beginning on Friday, Oct. 21, 2022, and continuing until Monday, Jan. 30, 2023, the VMC will decrease its after-hours service for small animal emergency and critical care. 
• The VMC's clinical team will restrict patient intake to life-threatening cases (red zone) only from 10 p.m. to 7:30 a.m. each evening/night.
• Whenever staffing levels and caseload permits, the clinical team will see patients that fall under the urgent condition (orange zone).
Because of the high demand for emergency and critical care services, the VMC may need to restrict patient intake to life-threatening cases — even during daytime hours.
• CALL 306-966-7126 before bringing your pet to the VMC
• EXPECT longer than normal wait times for clinical service
• BE PREPARED for a change in clinical services. The VMC may be unable to accept non-urgent cases if caseload is high.
Thank you for your understanding!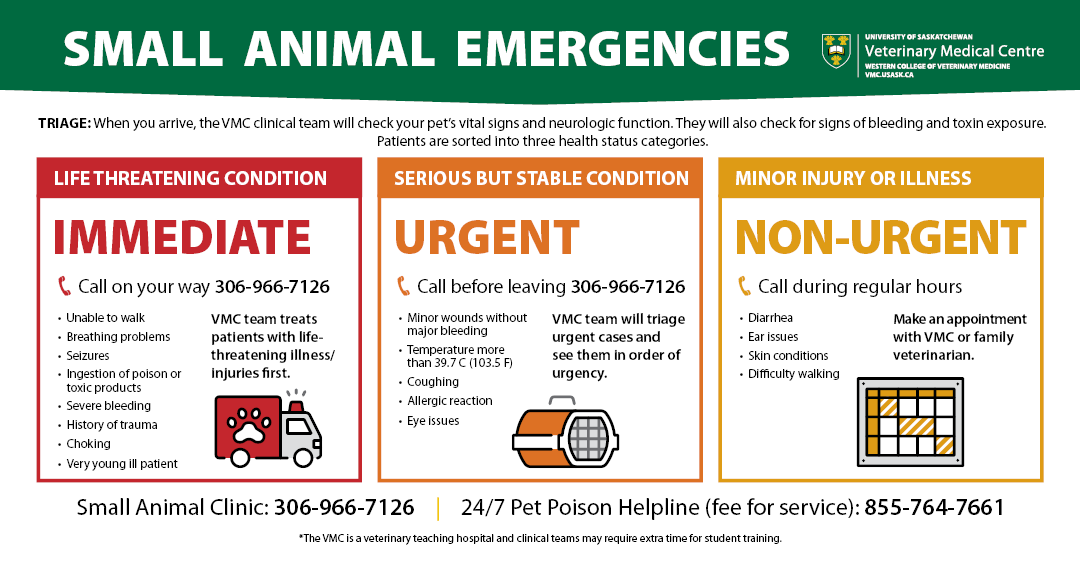 Clinical services update
Updated August 29, 2022
The VMC is following University of Saskatchewan policy and will continue to be a mask-friendly environment.
Masks are not mandatory indoors, but the VMC is still highly recommending their use. Individual clinicians may request pet guardians to wear masks in exam rooms on a case-by-case basis, such as when physical distancing is not possible.
Thank you for your co-operation! 
Pet Wellness and Vaccinations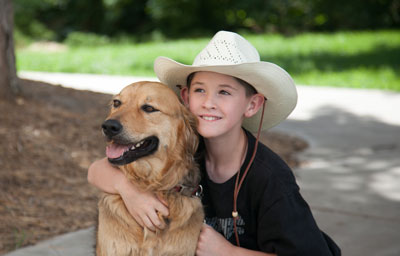 We offer a wide range of routine and preventive care services to help keep your pet healthy and happy. During your visit, our team will give your pet a thorough checkup and ensure that all preventive health measures are up to date.
Specialized Services
In addition to pet wellness services, the Veterinary Medical Centre's Small Animal Clinic also provides the following specialized services:
*Referral-based service. For this clinical service, your regular veterinarian will need to submit a referral to the Veterinary Medical Centre before you can make an appointment with the specialist.
Pet Owner Support
Are you experiencing emotional distress over the health of your animal companion? Please contact our Veterinary Social Work team for support during this difficult time.
Client Experience Survey
We are always working to improve our clients' experience at the WCVM Veterinary Medical Centre (VMC), so we would love to hear from you about what we are doing right and what we can do better.
Please take a few minutes to give us your feedback. If you would like to have your name entered in a monthly draw for $50 worth of pet food, please include your contact information in the survey form. 
Client Relations and Concerns
The WCVM Veterinary Medical Centre (VMC) has a client relations and concerns process to assist with your concerns if you are unable to find answers to your questions.
Our goals are to provide a mechanism for objective review and response to client concerns and to ensure that all complaints are addressed in a timely and respectful manner. 
Click the button below to read more about the client relations and concerns process.
Pet Memorials
To help commemorate the lives of beloved animals, the WCVM Veterinary Medical Centre offers a pet memorial program in partnership with Peartree Impressions.   
Blood Donor Program
Pet owners interested in becoming part of the Veterinary Medical Blood Donor program can find out more information here.
Appointments and Referrals
Animal Owners
Contact us to make an appointment. If you are a new client, please click below to find information about our location, parking and what to expect during your animal's appointment.
Referring Veterinarians
Submit an online referral form.
---
 Emergency services available 24/7
Emergency services are available for acutely ill or seriously injured animals.