The WCVM Veterinary Medical Centre's Large Animal Clinic and Field Service provides primary health care and round-the-clock emergency services and also serves as the referral centre for all western Canadian veterinarians and their clients.
Field Service
We offer a wide range of primary health and preventive care services to help keep your livestock healthy and productive. Our team will give your animal or herd a thorough checkup and ensure that all preventive health measures are up to date.
 Our Field Service teams are available for on-site veterinary care and emergency services.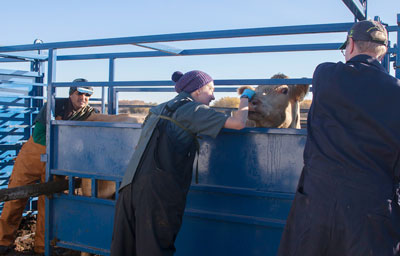 Clinical and Specialized Services
In addition to routine veterinary care, the Veterinary Medical Centre provides the following clinical and specialized services for large animals:
Owner Support
Are you experiencing emotional distress over the health of your animal/herd? Please contact our Veterinary Social Work team for support during this difficult time.
Client Experience Survey
We are always working to improve our clients' experience at the WCVM Veterinary Medical Centre (VMC), so we would love to hear from you about what we are doing right and what we can do better.
Please take a few minutes to give us your feedback. If you would like to have your name entered in a monthly draw for $50 worth of pet food, please include your contact information in the survey form. 
Client Relations and Concerns
The WCVM Veterinary Medical Centre (VMC) has a client relations and concerns process to assist with your concerns if you are unable to find answers to your questions.
Our goals are to provide a mechanism for objective review and response to client concerns and to ensure that all complaints are addressed in a timely and respectful manner. 
For more information, please contact: 
Manager, Client Experience
WCVM Veterinary Medical Centre
vmc.info@usask.ca
306-966-7126 (ext. 8795)
Appointments and Referrals
Animal Owners
Contact us to make an appointment. If you are a new client, please click below to find information about our location, parking and what to expect during your animal's appointment.
Referring Veterinarians
Submit an online referral form.
---
 Emergency services available 24/7
Emergency services are available for acutely ill or seriously injured animals.