Clinical services update
The WCVM Veterinary Medical Centre (VMC) is

experienc

ing

unprecedented demand

for our

small animal

emergency

and critical care

services and clinical staff shortages. 

As a result, the VMC is temporarily limiting its after-hours service for small animal emergenices.
• For the time being, the VMC will decrease its after-hours service for small animal emergency and critical care.
• The VMC's clinical team will restrict patient intake to life-threatening cases (red zone) only from 10 p.m. to 7:30 a.m. each evening/night.
• Whenever staffing levels and caseload permits, the clinical team will see patients that fall under the urgent condition (orange zone).
The VMC clinical team will continue performing triage according to the number of critical cases and available staff. Our triage team will always prioritize life-threatening or critical cases. Non-urgent cases may be turned away at any time — even during the day — depending on the level of demand

. 

 
If your veterinary clinic is referring an animal that is in a life-threatening condition to the VMC's emergency and critical care service, call the VMC in advance (306-966-7126)— regardless of the time — so our clinical team is aware of the incoming case.
To

keep

the public and referring veterinary clinics informed, the VMC will continue to

provide

information on its website (vmc.usask.ca) and will post regular

ly

weekly

reminders about the VMC's triage process on the WCVM's social media channels (@WCVMToday)

. 
The VMC clinical team thanks the veterinary community for its understanding and support. If you have questions or concerns, please contact Dr. Steve Manning (stephen.manning@usask.ca; 306-321-5923).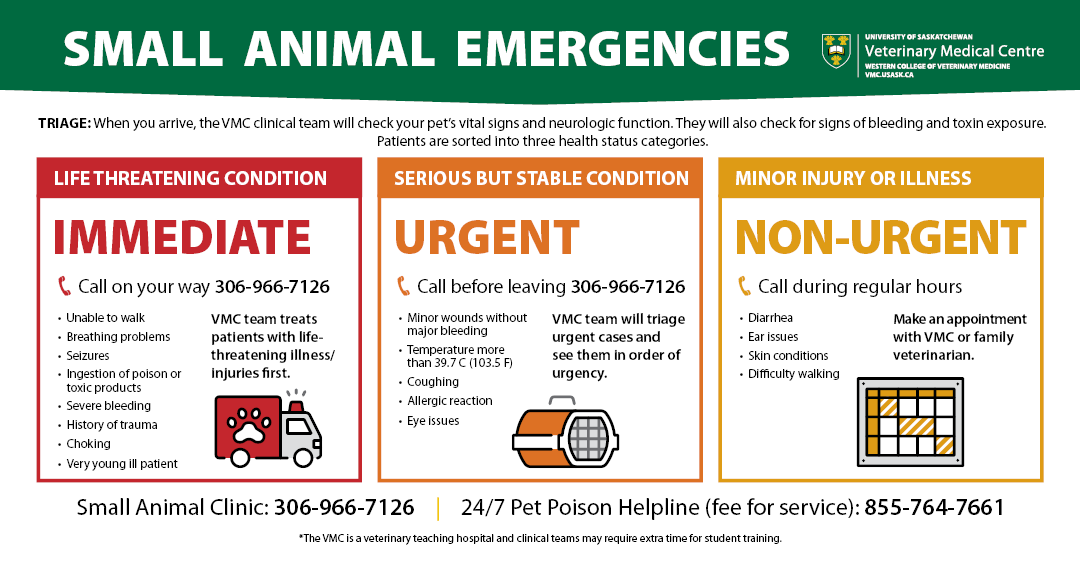 Changes to selected referral services
Updated Sept. 15, 2023
---
REFERRAL APPOINTMENTS: LIMITED AVAILABILITY
Please note that the following clinical service at the WCVM Veterinary Medical Centre have limited availability over the next few months: 
• Veterinary dentistry is currently booking appointments into the fall 
---
VETERINARY OPHTHALMOLOGY 
The WCVM Veterinary Medical Centre's (VMC) veterinary ophthalmology speciality service will be closed from 
Monday, Sept. 18, to Friday, Sept. 22. 
The VMC's ophthalmology service will reopen on
 

Monday, Sept. 25. 
If you have a patient requiring urgent or critical eye care, the VMC advises you to check with other speciality veterinary clinics in Western Canada for assistance. Here's a list of alternative veterinary ophthalmology service providers in Western Canada:
• 
VCA Canada CARE Centre
,
 Calgary, Alta. (403-502-8387) -- available on Monday, Sept. 18, and Tuesday, Tuesday, Sept. 19
The VMC appreciates everyone's patience during this temporary closure. If anyone has questions or concerns, please contact the VMC's Small Animal Clinic (306-966-7126).
---
VETERINARY DERMATOLOGY
Until further notice, the WCVM Veterinary Medical Centre (VMC) is not accepting referrals to its veterinary dermatology service. Please consider referring your patients to other available veterinary dermatology specialists in Western Canada. Please visit the Canadian Academy of Veterinary Dermatology website to access a directory. 
The VMC will notify any referred clients who are waiting for an appointment and ask them to contact their regular veterinarian for a new referral. Current VMC patients that were previously seen through the hospital's dermatology service will be rechecked by the VMC's clinical team.
Any clients whose pets were on immunotherapy may request refills of the medication from their regular veterinarian. Clients may contact the VMC's pharmacy service (306-966-7120) for assistance.
---
LARGE ANIMAL INTERNAL MEDICINE (EQUINE)
Western Canadian veterinarians are welcome to contact the WCVM Veterinary Medical Centre's large animal internal medicine team for consultation on equine endocrine-related cases. Please email vmc_equine_endocrine_consulting@usask.ca for more information.
Prairie Diagnostic Services (PDS), the provincial veterinary diagnostic laboratory for Saskatchewan, now offers equine metabolic testing that's available for all western Canadian veterinarians. 
The tests measure the levels of adrenocorticotropic hormone (ACTH) and insulin in blood samples taken from equine patients. Both markers are critical for diagnosing pituitary pars intermedia dysfunction (PPID) and equine metabolic syndrome (EMS). 
The PDS tests' reference ranges are based on the results of a WCVM study to determine a regional baseline for ACTH and insulin in western Canadian horses. Hormonal biomarkers can fluctuate based on geographical region, weather conditions and the time of day. 

Additional resources: 
---
RADIATION ONCOLOGY
The Western College of Veterinary Medicine (WCVM) plans to purchase and install a new linear accelerator that will allow the WCVM Veterinary Medical Centre (WCVM) to offer a wider range of advanced radiation treatment services to its oncology patients.
The VMC expects to have the new equipment installed and operating by late 2023. 
While this investment in the VMC's veterinary oncology program is exciting news, the VMC has had to shut down its existing linear accelerator because of substantial mechanical issues. 
Until the updated technology is installed and commissioned, the VMC can only offer strontium radiotherapy for small, superficial tumours in patients. The VMC's oncology team can still provide consults about radiation as a treatment option, but if radiation is indicated, the VMC will refer the patient to another veterinary centre.
During this transition, the VMC apologizes for the inconvenience to its patients and their families as well as to referring veterinarians. The VMC will update the veterinary community about the project as plans are finalized.


---
CLINICAL NUTRITION

Until further notice, the veterinary nutrition service at the WCVM Veterinary Medical Centre (VMC) is not accepting external referral cases.
Dr. Tammy Owens, the VMC's board-certified nutritionist, will still provide nutritional support to VMC patients and will be available to external veterinarians for nutrition-related advice.
Click here to access other options for nutrition services in Canada and the U.S.  
About Referral Cases
The WCVM Veterinary Medical Centre (VMC) serves as the referral centre for all veterinarians who practise across Western Canada. The VMC's goal is to work with our referring veterinarians and help ensure a smooth transition of care — contributing to excellence in care provision and a seamless client experience. 
Please click on the green button below to download a list of tips and advice for referring veterinarians and veterinary clinics. 
Online Referral Forms
The WCVM Veterinary Medical Centre's online referral process has been upgraded. 
Click the green button below to begin the referral submission process. 
Questions or problems? Please contact vmccorrespond@usask.ca.  
Laboratory files and/or radiographic images can be attached to your online submission. Here's a list of the types of referrals that the WCVM Veterinary Medical Centre can accept:  
Clinical behaviour (dogs, cats, exotic pets, pocket pets and horses)
Dentistry 
Dermatology
Equine standing MRI 
Medicine

Medicine-surgery

(exotic pets, zoo animals and wildlife)
Neurology 
Nutrition 
Oncology 
Ophthalmology 

Rehabilitation

(rehabilitation, acupuncture and laser therapy services)
Neurology and cardiology (small animal)
The WCVM Veterinary Medical Centre does not have board-certified specialists in neurology and cardiology on site.
Incoming cases are managed by the VMC's small animal medicine and small animal surgery teams. 
Cardiology (large animal/equine)
At this time, the WCVM Veterinary Medical Centre's (VMC) large animal clinical team cannot evaluate cardiology cases that require an echocardiogram for diagnostic, therapeutic or prognostic purposes. 
The following chart outlines which cardiology cases the VMC's large animal internal medicine (LAIM) service will consider seeing and which cases should immediately be referred to another specialist centre. 
Referral option:
Dr. Kim Hawkes, board-certified veterinary cardiologist, Pulse Veterinary Specialists & Emergency, Sherwood Park, Alta.
Dr. Hawkes provides equine cardiology services at several equine veterinary clinics in Alberta.
Cases considered by VMC large animal internal medicine service
• Diagnosis/treatment of suspected heart failure
 • Chemical conversion of atrial fibrillation (after an echocardiogram has been performed elsewhere)
• ECG, including Holter ECG (intepretation by a board-certified cardiologist external to the WCVM)
Cases to be referred elsewhere
• Workup of heart murmurs
• Performance evaluations
• Routine monitoring of previously diagnosed structural or functional cardiac abnormalities
Please Note
We are staffed by faculty who have teaching, research and additional responsibilities. Referral cases must be seen by the clinicians on duty rather than by a specific faculty member. This is the case even if you have spoken to a specific faculty member and they have encouraged you to refer the case to the Veterinary Medical Centre.
If your client is scheduling the appointment, please ask your client to let our staff know that this is a referral appointment. We will ask for:
the referring veterinarian's name
the name and address of the referring veterinary clinic
a completed online referral form (see above). Radiographic images and/or laboratory files (in jpeg or PDF format) can be attached to your online submission.
As the patient's referring veterinarian, you will receive a final written report after the case is discharged from the WCVM Veterinary Medical Centre.
Referring Emergency Cases
If a referred patient is an emergency case
Send your patient and client on their way to the WCVM Veterinary Medical Centre.

Call the appropriate clinic to provide more details and your client's estimated arrival time.

Complete the appropriate referral form.
Please inform your client that the WCVM Veterinary Medical Centre will charge emergency fees. 
If a specialty clinician is unavailable, a clinical intern or a resident (under a senior clinician's supervision) will accept the referred emergency patients.

Patient Records
Information for referring and family veterinarians
The Health Information Service manages the patient data flowing in and out of the WCVM Veterinary Medical Centre.
Privacy and confidentiality
Protecting our patient's health information is essential. We require owner consent to send records to any veterinary clinic that is not listed as the home clinic for a referring or family veterinarian on the patient's chart.
Requesting records
If you require records in addition to the discharge notes or referral letter (if applicable), please contact the VMC's Health Information Service.
Please provide us with as much lead time as possible to process your request. While most requests are completed within 72 hours, please note that we prioritize all requests to patients in distress at another veterinary clinic.  
Contact us
Contact the WCVM Veterinary Medical Centre's Health Information Service team at 306-966-7111 or vmc.info@usask.ca. We are open from 8 a.m. to 4:30 p.m., Monday to Friday. 
Clinical Trials
Research teams at the Western College of Veterinary Medicine (WCVM) frequently ask for assistance in locating potential participants for animal health research studies at the veterinary college. In some cases, the research study will cover the cost of specific tests or procedures for eligible participants. 
For more information, please click on the individual studies listed below or visit the web page listing all current research studies that are seeking potential participants. 
Continuing Education
Each year, the WCVM helps to organize continuing education courses or seminars for specialized practitioner associations. Based on demand, the veterinary college also organizes and offers CE events that target certain species or disciplines.