About
Just like their owners, pets need to keep fit and to recover mobility and strength after a surgery or injury. The WCVM Veterinary Medical Centre offers a host of services to promote fitness, speed healing and enhance recovery.
Our pet rehabilitation programs and services are operated by clinicians who have specialized training as certified canine rehabilitation practitioners (CCRPs) or as certified canine rehabilitation therapists (CCRTs).
Rehabilitation Programs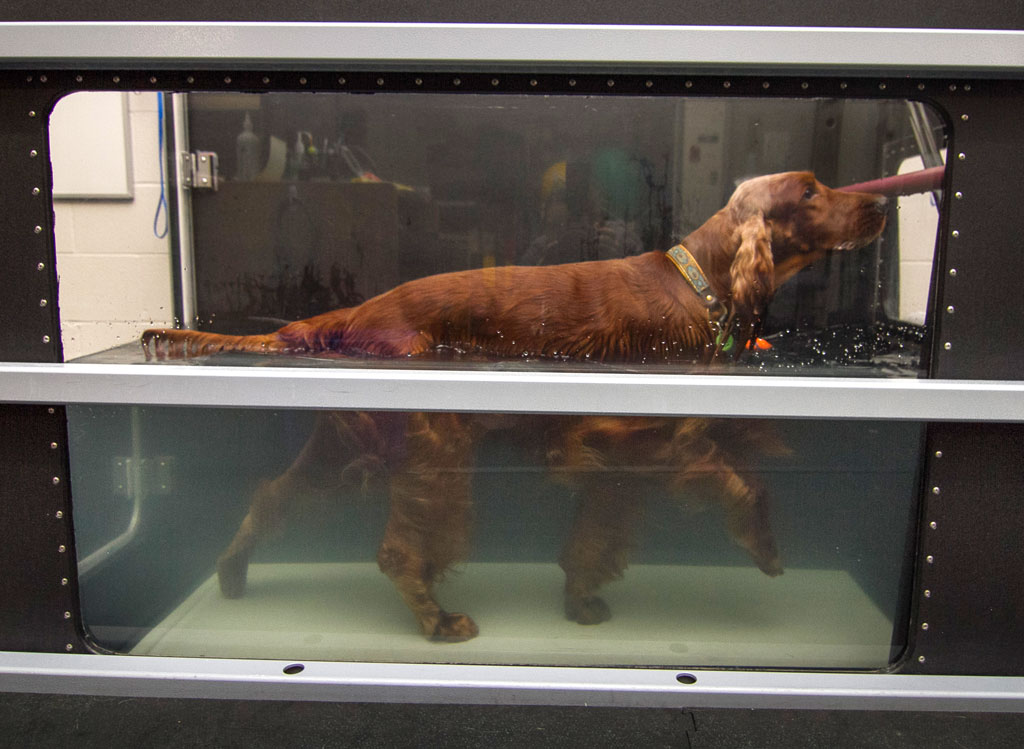 WCVM rehabilitation specialists work with animals that have had surgery or have conditions that are being medically managed. They can help arthritic or geriatric patients to become more active and they can assist healthy animals with fitness and weight management.
Although dogs are the clinicians' most frequent visitors, many cats also do well with fitness and rehabilitation programs.
Each client is treated differently. Based on the individual needs of the pet, the therapist develops a plan using a variety of the equipment and exercises available. The therapists pick and choose from the modalities available to them and come up with a plan that works best for each situation.
Right after surgery, the clinicians will usually focus on techniques to decrease pain and swelling. They will also start to get patients moving in a controlled fashion. As the patients heal, the rehabilitation team increases the pets' exercise — often using the centre's underwater treadmill.
Acupuncture
Services
The WCVM Veterinary Medical Centre offers acupuncture to small animal patients as a complementary treatment for: 
arthritis
chronic pain
recovery from back surgery
As a complementary therapy, acupuncture treatments may help to reduce or eliminate the use of medications such as anti-inflammatory drugs for chronic conditions such as arthritis. 
What to expect
The initial acupuncture session takes about an hour. To help make a diagnosis, you will asked questions about your pet's health and behavour. For example, to establish whether the animal is heat-seeking or cool-seeking by asking if your pet prefers the cold floor to a warm bed. You will also asked your pet's medications and medical history.
There are charts of known acupunture points available, but needle placement changes based on the specific animal and on the condition being treated.
The length of the actual treatment varies. Dogs generally take 20 to 30 minutes, but the time differs with every patient. Species such as cats and rabbits generally require less time. At your next visit, you will be asked to describe the animal's behaviour after the session to help determine the correct treatment length.
Typically, animals may act quieter and be more "mellow" on the day after a treatment, but they will be back to normal by the next day.
The number and frequency of treatments also varies. For example, we may treat a patient with arthritis twice in the first week and then once a week after that. If there is improvement after the first four to six weeks, we will continue treatment but start decreasing the frequency. For example, some patients that receive ongoing acupuncture therapy only come in every five to six weeks.
Therapy tools
The underwater treadmill accommodates all sizes of dogs. It's especially helpful after surgery as the water's buoyancy decreases the weight on injured or weak limbs. The treadmill's incline feature and variable speeds allows the therapist to gradually increase exercise and the amount of work. The treadmill can also be used for swimming with smaller dogs.


The land treadmill is useful for dogs that are relearning to walk such as those that have been paralyzed because of intervertebral disk disease. The therapist can stand behind the animal and help with foot placement. The incline and decline features can be used for additional strengthening on the front or hind limbs.


Manual therapy: Massage is useful for increasing blood flow, reducing swelling and loosening up tight painful muscles. Stretching and a range of motion exercises are used to improve joint stiffness and comfort.


Therapeutic ultrasound can be used to heat deep tissues. It's helpful when combined with massage and stretching to break down scar tissue and relax tight muscles. Non-heating settings can be used to speed healing.


Low-level laser can also speed healing — particularly of wounds. There's also some evidence for healing of tendons and bones. It may also help to decrease pain and joint swelling and can be used to stimulate acupuncture points.


Neuro muscular electrical stimulation (NMES) uses electrical stimulation to cause muscle contractions. NMES minimizes muscle atrophy by getting the muscles to work. Different settings on the same machine can be used for pain control rather than muscle contractions.


A variety of exercise equipment: A ramp and stair system helps animals practice going up and down stairs and provides an alternative to hill work in the winter months. 


Exercise balls and wobble boards are used to build core strength and improve balance. A variety of other exercises, such as sit-to-stand exercises, can be used to strengthen various muscle groups.
Fitness Programs for Pets
Whether your pet is overweight and out of shape or a highly-trained athlete with plenty of energy, the WCVM Veterinary Medical Centre has a fitness program that will work for your pet.
Using our underwater treadmill and other fitness tools, WCVM veterinarians can develop customized exercise sessions that will build your pet's cardiovascular endurance, promote weight loss and improve core strength. Our exercise programs are also ideal for maintaining mobility in arthritic pets or older dogs and cats.   

The WCVM Veterinary Medical Centre offers single fitness sessions or packages of eight and 16 sessions.
Before starting any program, a veterinarian with canine rehabilitation training will evaluate your pet's health.
Level 1 (30 minutes): Ideal for dogs or cats that are overweight, arthritic or in need of exercise. It includes up to 25 minutes of treadmill time (in or out of water) plus five minutes of stretching. A session starts with a warm up at lower speed, progresses to a faster pace and then wraps up with a slower cool down. For animals that aren't able to do a full 25 minutes in the treadmill, the extra time is used for a variety of other exercises depending on the patient's needs.
Level 2 (45 minutes): Ideal for dogs involved in flyball, agility, retrieving or other high-energy activities where core strength is important for performance and injury prevention. It includes 15 minutes of warm up and core strengthening, 25 minutes on the treadmill (in or out of water) and five minutes of stretching. Fitness balls, wobble boards, wobble disks and floor exercises help to strengthen your dog's abdominal muscles
Treadmill Therapy
Being able to exercise using the underwater or land treadmill can be really helpful for the animals' mental well being.
It lets them wear off excess energy in a controlled way so they are more likely to rest at home. They often have a lot of energy and frustration and aren't yet allowed to run or play. In these cases, rehabilitation sessions can make the recovery period much more tolerable for both the dogs and their owners.
Will my pets like treadmill therapy?
The first session includes a five-minute trial on the treadmills. Most dogs quickly become accustomed to the warm water treadmill that has a variable water level and speed to accommodate dogs of all sizes. But if your dog doesn't like water, we use a conventional land treadmill with variable speeds and an adjustable incline.
Not every cat is willing to walk on a treadmill, but many of them do well with this activity. Cats are usually taught to initially walk on the land treadmill, then they are gradually introduced to the underwater treadmill.
Enjoyment
Although the dogs are receiving therapy for a variety of reasons, most of them really love their treatments — especially the one-on-one attention. Clinicians try and make everything fun by using treats, toys and praise as motivation.
Our Team
The WCVM Veterinary Medical Centre's clinical team members are dedicated, compassionate people with specialized training and a diverse range of experiences. In addition to providing our patients with high-quality care and support, we are helping to train Western Canada's next generation of veterinary professionals.
What to Expect
While the WCVM Veterinary Medical Centre shares many similarities to other veterinary hospitals, there are some differences that may have an impact on your appointment.
Appointments and Referrals
Animal Owners
This is a referral-based service. You will need to have your veterinarian submit a referral form to the Veterinary Medical Centre before you can make an appointment with this clinical service. 
Referring Veterinarians
Submit an online referral form.