Clinical services
Updated June 14, 2021
The WCVM Veterinary Medical Centre (VMC) has resumed normal operations in all of its clinical services except small animal surgery, which remains closed to all cases other than emergencies and urgent care. 
Clients may now enter the reception areas of the WCVM Veterinary Medical Centre. Please wear a medical-grade mask and maintain your physical distance in the building. Please visit the "preventive measures" section for more information. 
Click the button below for full details.
Horse owners rely on the WCVM's Large Animal Clinic and Field Service for primary health care and round-the-clock emergency services.
As well, the WCVM Veterinary Medical Centre is a referral centre serving all of Western Canada.
Field Service
The WCVM Veterinary Medical Centre's Equine Field Service offers on-farm primary and emergency patient care as well as preventive health care programs to horses within an 80-kilometre radius of Saskatoon.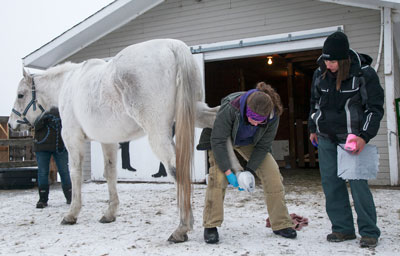 The Equine Field Service offers a range of health services: 
an Equine Wellness Program (physical examinations, vaccinations, teeth floating, fecal egg counts and targeted deworming)
nutrition
behaviour consultation
dentistry (PowerFloat, cap removal and wolf tooth removal)
lameness exams (digital radiography and limb ultrasonography)
pre-purchase examinations
airway endoscopy (standing and overground)
gastroscopy
complete reproductive services
foal care (snap testing and foal's first examination)
geriatric horse care
castrations and minor surgeries
sport horse medicine (including targeted joint injections)
Game Ready therapy
acupuncture
emergency care (colics and wound care)
Specialized Services
Supported by upgraded facilities and advanced technologies, our clinical teams offer the latest diagnostic techniques and a full range of therapies to all of our equine patients including:
Facilities
Ryan/Dubé Equine Performance Centre
The focal point for the VMC's equine clinical services, teaching and research is the Ryan/Dubé Equine Performance Centre.
The facility offers a permanent longeing arena, an equine standing MRI, a high-speed equine treadmill and an indoor paved runway.
These resources complement the VMC's existing diagnostic tools that include digital radiograpy, endoscopy, ultrasonography, computed tomography and nuclear scintigraphy. Advanced diagnostic testing is also accessible through Prairie Diagnostic Services — the provincial laboratory that's located next door to the VMC.
Owner Support
Are you experiencing emotional distress over the health of your animal companion? Please contact our Veterinary Social Work team for support during this difficult time.
Our Team
The WCVM Veterinary Medical Centre's clinical team members are dedicated, compassionate people with specialized training and a diverse range of experiences. In addition to providing our patients with high-quality care and support, we are helping to train Western Canada's next generation of veterinary professionals.
What to Expect
While the WCVM Veterinary Medical Centre shares many similarities to other veterinary hospitals, there are some differences that may have an impact on your appointment.
Appointments and Referrals
Animal Owners
Contact us to make an appointment. If you are a new client, please click below to find information about our location, parking and what to expect during your animal's appointment.
Referring Veterinarians
Submit an online referral form.
---
 Emergency services available 24/7
Emergency services are available for acutely ill or seriously injured animals.