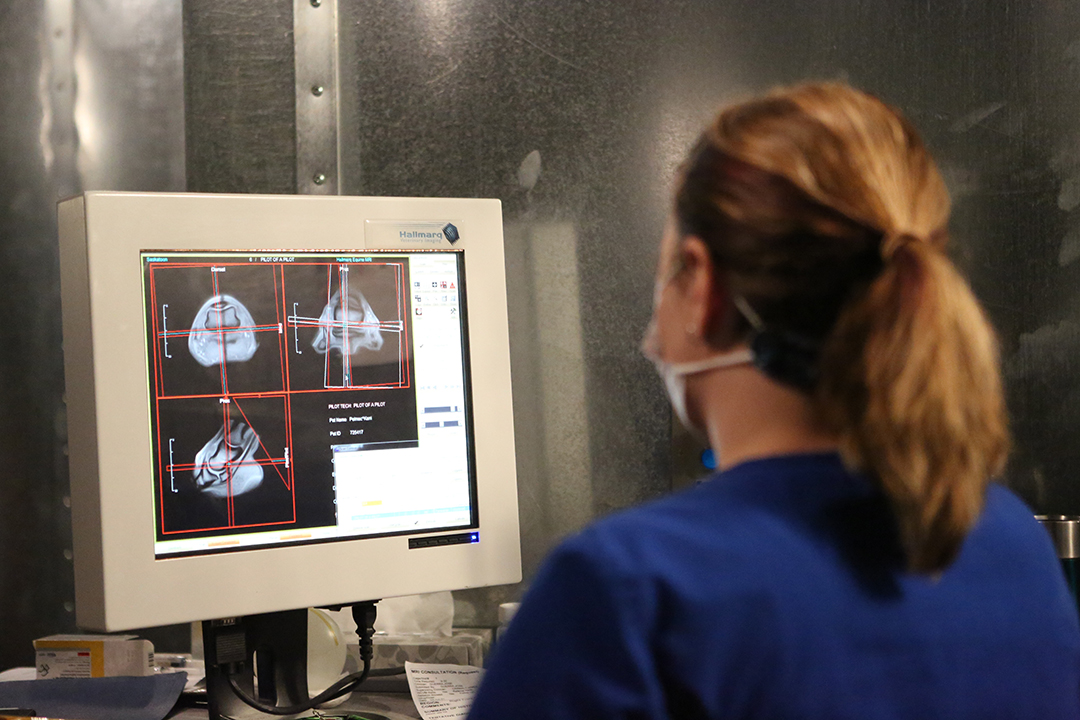 The WCVM Veterinary Medical Centre's equine standing MRI (magnetic resonance imaging) diagnostic service is now available for referring veterinarians in Western Canada.
The MRI unit allows medical imaging specialists to scan the equine foot and lower limb while the sedated horse is standing. The highly sensitive imaging modality is ideal for diagnosing forelimb lameness of varying grades.
Veterinarians often consider a referral for an equine standing MRI exam when X-rays are negative or inconclusive or when the region isn't accessible using ultrasonography.
It's also effective in cases where there's a poor response to treatment, after a penetrating foot wound, and after acute onset of lameness during exercise. As well, MRI exams work well for diagnosing soft tissue injury secondary to fracture, early detection of bone fractures, and for pre-purchase screening. 
Stacey Oliynyk, who operates the VMC's equine standing MRI unit, is certified as a registered technologist in radiological technology (RTR) and magnetic resonance (RTMR). Members of the VMC's medical imaging team interpret the MRI exams and provide reports to referrng veterinarians.  
Western Canadian veterinarians can submit an equine standing MRI referral through the VMC's referral portal system. If you have questions, please contact 306-966-7178.